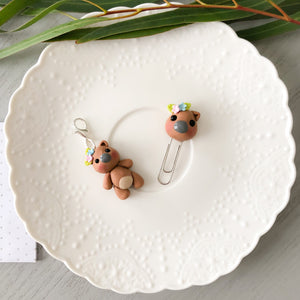 I'm so excited to introduce my new Australiana collection of clips and charms! 
Each piece being hand sculpted out of strong durable polymer clay. Charm features a full bodied wombat with and adorable leaf and blossom headpiece. While the paperclip is the chubby wombats little face with her gorgeous headpiece.
Paperclip is mounted on a 33mm clip
Travellers Notebook has a small oval jump ring with a 14mm Lobster Clasp. The perfect size for clipping onto elastic straps.
Planner Charm comes with a large 21mm lobster clasp and a length of chain. Perfect for hanging off a ring or coil bound planner.
Available in either GOLD or SILVER
Please be sure to choose an option in each of the drop down boxes.
You can find all things Australian HERE.
As this item is handmade there maybe slight variations in the item you receive to the photo as shown. Many hours even days go into creating a single piece. Each being handmade with love and attention to detail.
Thanks for Looking and happy shopping :)
Danni