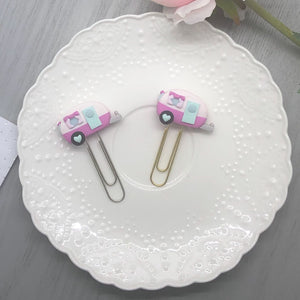 Do you enjoy travelling around in your camper or caravan? Or do dream of the days where you will? This little retro styled camper is the perfect paperclip for you. 
Each piece is hand sculpted using strong durable polymer clay. Featuring a white caravan with mint door and light pink curtains. Mounted on a 50mm Paperclip.
Available in either GOLD or SILVER
Please be sure to choose an option in each of the drop down boxes.
As this item is handmade there maybe slight variations in the item you receive to the photo as shown. Many hours even days go into creating a single piece. Each being handmade with love and attention to detail.
Thanks for Looking and happy shopping :)
Danni