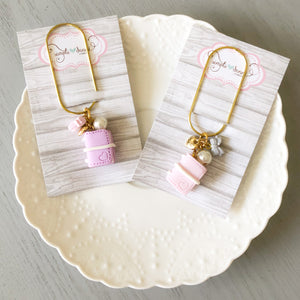 Meet my newest product style to be available. Dangle paperclips!
These gorgeous wide paperclips feature a tiny polymer clay planner in either TN or Planner style with a metal heart, polymer clay bow and pearl bead. Designed to dangle out the side of your favourite planner of notebook.
Choose from Cotton Candy or Baby Pink.


Available in either GOLD hardware
Please be sure to choose an option in each of the drop down boxes.
As this item is handmade there maybe slight variations in the item you receive to the photo as shown. Many hours even days go into creating a single piece. Each being handmade with love and attention to detail.
Thanks for Looking and happy shopping :)
Danni